[et_pb_section fb_built="1" admin_label="section" _builder_version="3.0.47"][et_pb_row admin_label="row" _builder_version="3.0.47" background_size="initial" background_position="top_left" background_repeat="repeat"][et_pb_column type="4_4" _builder_version="3.0.47" parallax="off" parallax_method="on"][et_pb_text admin_label="Text" _builder_version="3.0.47" background_size="initial" background_position="top_left" background_repeat="repeat"]
They laughed the first time they met in my studio. They laughed during their entire engagement session. There was no denying that not only were Lyndsay and Matt were the perfect pair together, but their wedding day would be full of smiles and laughter!
The day began at Merner-Pfeiffer-Klein Memorial Chapel, Albright College, in Reading, PA. Most couples expect a bit of a chill in the air when planning a late October wedding, but instead we were surprised with temperatures in the high 70s. No one was about to complain about such gorgeous weather!
Stephanie's Bridal​'s Mori Lee gown, paired with sparkly jewelry, perfectly matched the bride's vision of Classy, sparkly, elegant - making her feel like a real princess!
Although they chose not to have a First Look, the newlyweds helped build their anticipation by exchanging sentimental gifts.
Just a few minutes after 2pm it all became real, as Matt saw his bride walked towards him, arms linked with her dad.

Being a couple who values sentimental ties, Matt's brother officiated the ceremony. To no surprise of anyone, their vows were accompanied by uncontrollable smiles and joy!
As guests made their way to the Barn at Flying Hills to enjoy cocktail hours, the newlyweds slipped away for a few photos together. The couple had met at Albright College about seven years ago, so of course we had had to take advantage of the sentimental value of taking their photos right on campus!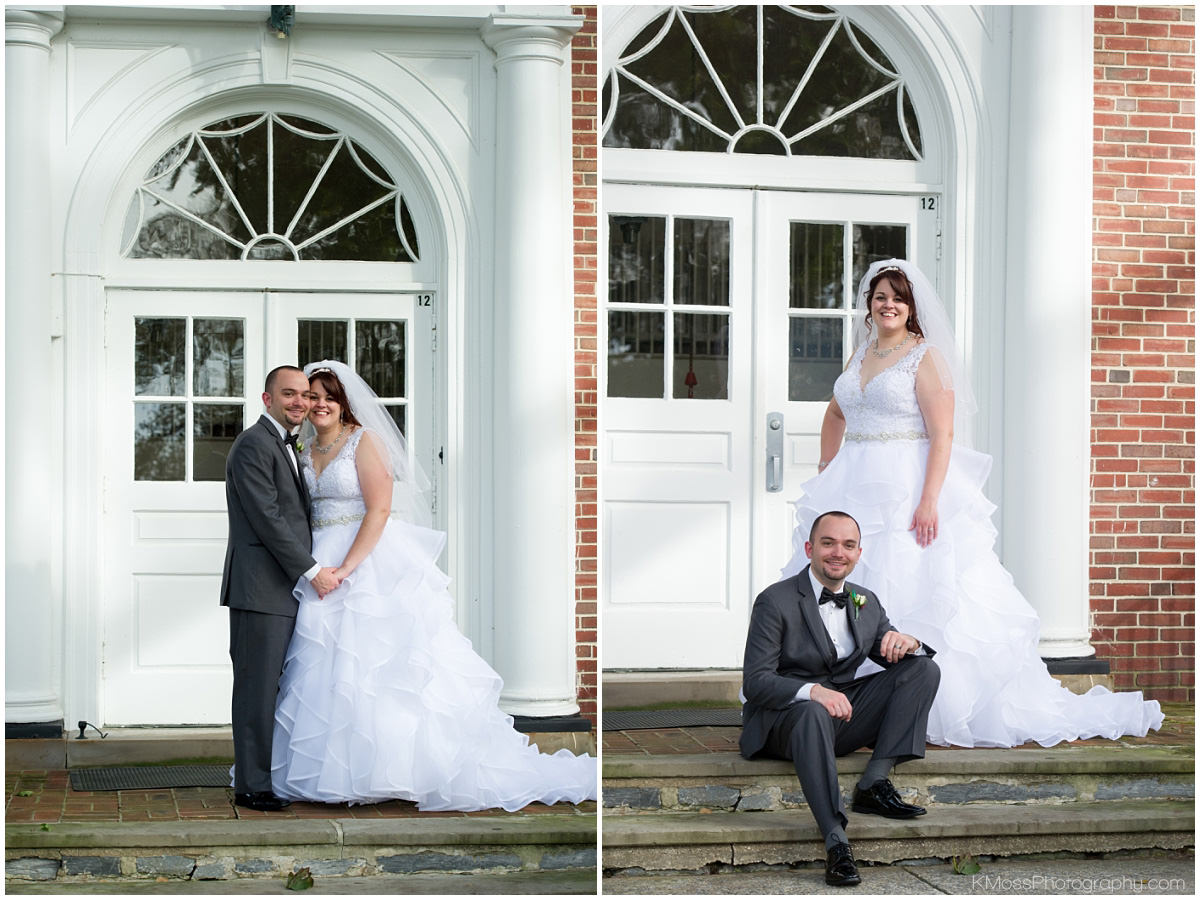 The gorgeous bouquets which included hydrangeas, roses, and wax flowers were delicately designed by Lalonnie's Heavenly Flowers​. Matt's boutonnieres had a tiny little coke bottle, which was a tie into the way he proposed to Lyndsay!
The Barn at Flying Hills was decorated with lavender and mint green accents, which held sentimental meaning to the couple. Lyndsay had been wearing a mint green dress the day Matt proposed. Purple is also Lyndsay's favorite color and green is the Matt's. How awesome that their favorites coordinate so elegantly!
 Sweet Layers put their skills to work to create this gorgeous four-tier wedding cake, accented with mint and lavender. It adorned the most adorable cake topper, that truly reflected the couple's relationship. Lyndsay's parents had gifted their wedding cake knife to the newlyweds, now engraved with both of their wedding anniversaries. Such a sweet touch to the day!
DJ Jimbo Entertainment​ (a favorite of both K. Moss brides and myself!) got the night started with some laughter and guest interaction, thanks to the Shoe Game, followed by opening up a quickly packed dance floor.
It makes my heart so happy to know that the new Mr. and Mrs. not only had the wedding day they had been dreaming of, but also found their perfect match in each other.
A huge thank you to all of the amazing vendors who helped make this day so memorable for Lyndsay & Matt!
Ceremony | Merner-Pfeiffer-Klein Memorial Chapel
Officiant | Andrew Schlegel
Reception | The Barn at Flying Hills
Catering & Cake | Sweet Layers
Flowers | Lalonnie's Heavenly Flowers​
DJ | DJ Jimbo Entertainment​
Wedding Gown | Stephanie's Bridal​
Dress Designer | Mori Lee 
Tux | Mens Wearhouse
[/et_pb_text][/et_pb_column][/et_pb_row][/et_pb_section]