Emily and Warren each woke up in their separate Glasbern Inn rooms, anticipating what they've waited so long for: to end their night as Mr. and Mrs. and begin each day thereafter creating new memories as married couple!
March weather varies each year, making it difficult to know what to expect. Luckily, rather than snowflakes, we received spring temperatures - which ended up being the only day within a 1.5 week span that didn't fall into the 40s!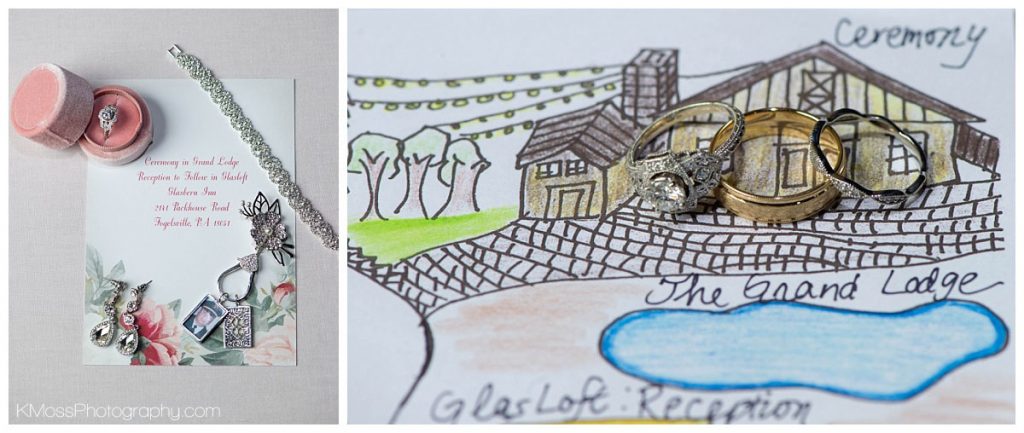 The ceremony and reception decor perfectly fit Emily and Warren's vision of a rustic, romantic wedding day with an elegant atmosphere.

Happy tears began to fill the room as Emily and Warren promised forever. Guests were later overheard commenting that they had heard the most beautiful vows and felt so much love and joy surrounding them.
Is anyone else left speechless by these two?! Emily is beyond stunning in her Essence of Australia lace gown and Warren completely melts your heart in his fancy Joseph Abboud attire.
It was cloudy ALL day, so although disappointed, we accepted that there wouldn't be a sunset. What a surprise to see this on our way to the reception at Glasloft: a sky full of orange, blue, and pink hues!
This is the sweetest cake topper is pure love! How ridiculously adorable will this look on their living room shelf, serving as a a symbol of growing together through the years. (Of course that is only my interpretation of the symbolism. I didn't get a chance to ask the newlyweds 🙂 )
In lieu of traditional favors, they gifted guests with tasty seasoning for their summer barbecues!
Wiping away your wife's tears during your first dance? Cue the melting hearts!
We discreetly snuck away for a few minutes for a couple of nighttime photos, allowing the new Mr. and Mrs. to share a few whispers with each other and breathe in the fresh, cool air.
Traditionally, the DJ announces for guests to join the couple as they cut and share their first piece of cake as husband and wife. Emily and Warren opted for a more intimate cake cutting, allowing them to share this moment together, just the two of them. (and yes, the cake was as tasty as it looks!)
After an evening full of laughter, tears, and LOTS of dance moves, guests gathered outside to share their final congratulations of the evenings. As each sparkler was carefully lit, huge grins spread across faces. Guests instantly felt a part of their childhood resurface and began to excitedly squeal, exclaiming that they were having such a blast!
As the sparklers began to fade out, I overheard guests tell the newlyweds that they had just attended the best wedding they've ever been to and had such a great time 🙂
Emily and Warren, thank you so much for inviting me to be a part of your day and celebrate along side you!