The month of May can be hit or miss, in terms of weather, but Lina and Steven's wedding day was blessed with most absolute gorgeous wedding we could have asked for! Beautiful light poured through the hotel windows, as Lina began to get ready for a life-changing day.
The way Lina's shoes, rings, and other little details shimmered in the light was so captivating and added such flair to her wedding day look.

The sparkle that adorned Lina's button-back wedding gown was drool-worthy! Baker's Florist carefully added dazzling diamonds to the flowers, which was the perfect touch for the white rose bridal bouquet.
As I photographed (and drooled) over the wedding details, Roxy and her team of Makeup By Roxy put their skills to work. Roxy's years of experience in beauty definitely shows as she carefully selected the perfect makeup shades to enhance the bride's amazing features.
After hair and makeup was complete, it was time put on that dazzling gown and to begin to really feel like a bride. The moment towards seeing her groom-to-be was growing nearer and excitement was definitely building!
Seeing the groom's anticipation grow as he awaits seeing his bride for the first time is one the most amazing parts of the wedding day. The time set aside for a First Look was the perfect way to have a few private moments together and share how they were feeling in the moment. It didn't take long for tears to be shed, which was definitely a peek into how emotional the rest of the day would be!
After kisses had been shared and happy tears were wiped away, Steven held his bride close and we began to take couple portraits.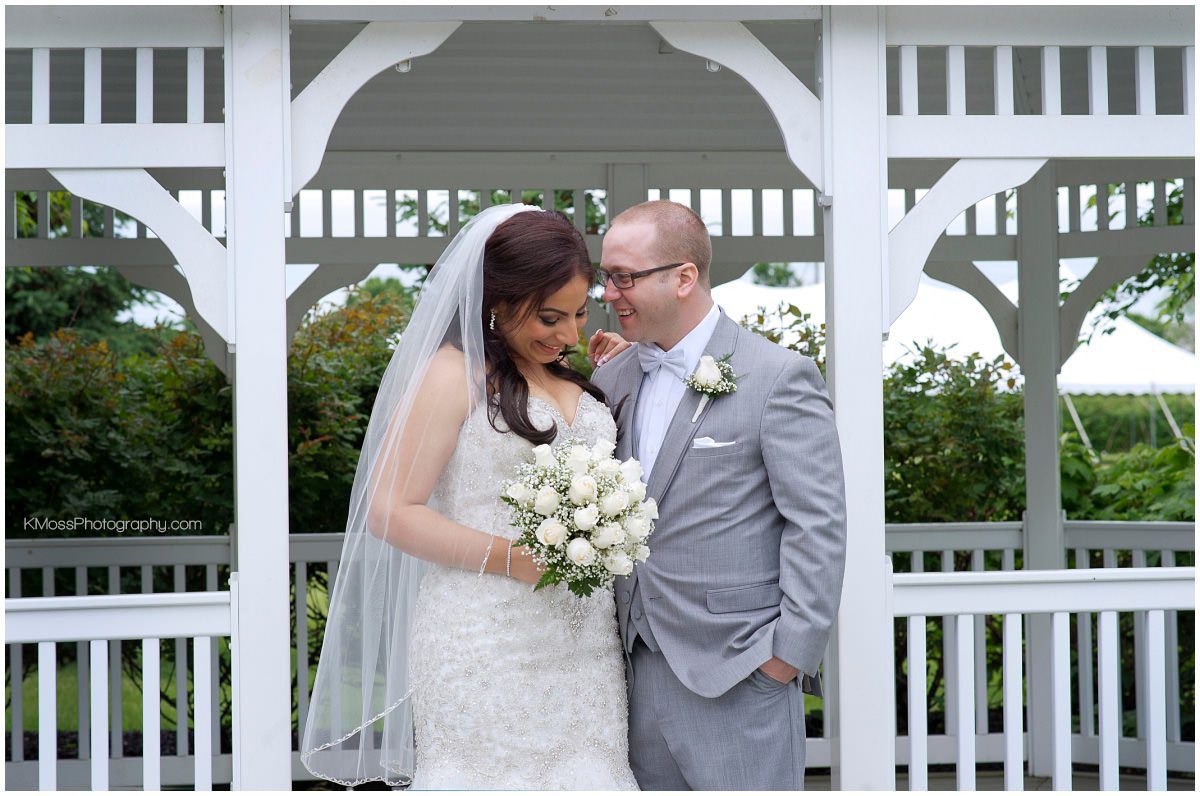 After months of planning, the moment finally arrived. Lina's father and step-father walked her down the aisle towards the boy who had completely captured her heart. The ceremony was filled with laughter, smiles, and many tears. Steven's dad officiated, giving an even more sentimental touch to the ceremony.

As they made their way back up the aisle, Steven high-fived a few friends, further showing that the newlyweds were about to burst from happiness!
We quickly escaped to the Hanover Grande Ballroom reception area, before guests began to filter in, so Lina and Steve could have a private reception room first look. Their reactions were priceless when they entered - and it was no surprise why!
The sparkle tablecovers and candles added a romantic and elegant touch to the room, while Lehigh Valley DJs' purple uplighting took the ambiance to another level.
Introductions definitely left guests with a surprise for the night, as Lina and Steven weaved through guests tables and made their way to the dance floor. The night started with a traditional Syrian dance, which quickly led guests to the dance floor, ready for an amazing night.
After about 10-15 minutes of high energy, it was time to slow things down a bit and share their first dance. Tears fell as they held each other tightly, while Say You Won't Let Go played. The rest of the evening was spent sharing special dances with family members, reminiscing during toasts, mingling with guests, and creating lots of memories!
As Lina and Steven celebrate each wedding anniversary, I know they'll smile when thinking about the day they first promised forever!