I first met Becky 8.5 years ago when she was a bridesmaid at her aunt's wedding. Since then, I've photographed 2 weddings and at least 4 photo sessions of her family! When Becky told me that she had mentioned to her boyfriend, that if they were to get married, she already knew who her photographer had to be, I was so incredibly flattered!
Both teachers, Becky and Jeff met just over 7 years ago when Becky was transferred to Jeff's school. They were simply colleagues, knowing each other mainly through faculty meetings and school events, though Becky caught Jeff's eye from the moment he saw her. Another job transfer for Becky caused their workplace friendship to fizzle, but a chance meeting with Jeff's best friend a few years later unknowingly changed Becky and Jeff's lives forever.

Jeff's friend later mentioned his run in with Becky, prompting Jeff to reach out to her. He invited her to accompany him on his school's trip to the Reading Phillies. Although he didn't really think she would show up, but was secretly hopeful. Not only did Becky show up and had such a great time, the day ended with planning an official first date for the following week.
Becky has always felt that the day after Christmas is the most depressing day of the year. The Christmas hype begins right after Halloween, and on December 26 the Christmas music stops, lights and decorations come down, many jobs resume, and Valentine's merchandise is everywhere. Jeff had a plan to change all of that. The day after Christmas, they took a visit to Lights in the Parkway in Allentown, followed by dinner. Holding the ring in his pocked all evening, Jeff was waiting for the right moment to ask his dream girl to be his forever. He finally proposed when we got back to Becky's house, just before midnight, forever changing Becky's view of the day after Christmas.
The weather was relatively mild for an end of November wedding. There was definitely a chill in the air, but we lucked out with blue skies and no intense winds. Even more surprising, there were still quite a bit of leaves on the trees! The higher-than-average temperature allowed Becky to showcase her gorgeous dress, without being covered with a bulky shawl (though I did have a blanket available for her to warm up when she needed!)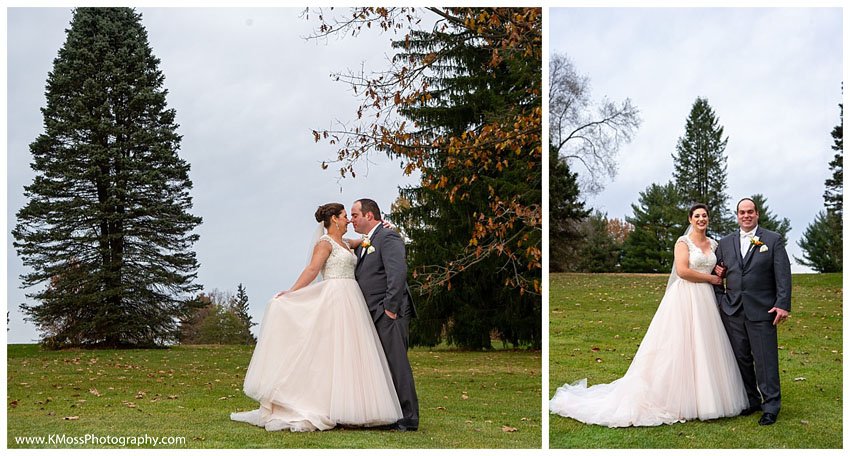 Becky felt so ridiculous as I was taking this photo of her, just as others brides always do. I assured her that it would end up being one of her favorites and just as I promised, she absolutely fell in love after seeing it.
Finally and officially Mr. and Mrs., Becky and Jeff twirled around the dance floor, letting no more than a few seconds come between kisses. Guests could be overheard that they can't recall a time that either of them have ever looked so happy. Little girls watched in awe, as though they were in the presence of a real Disney princess.
Before Becky danced with her dad, I told a little girl, "just watch, she is going to dance and look just like Cinderella!". The DJ then announced the song name, "Cinderella". The little girl's eyes widened as though a truly fairy tale had come to life for her.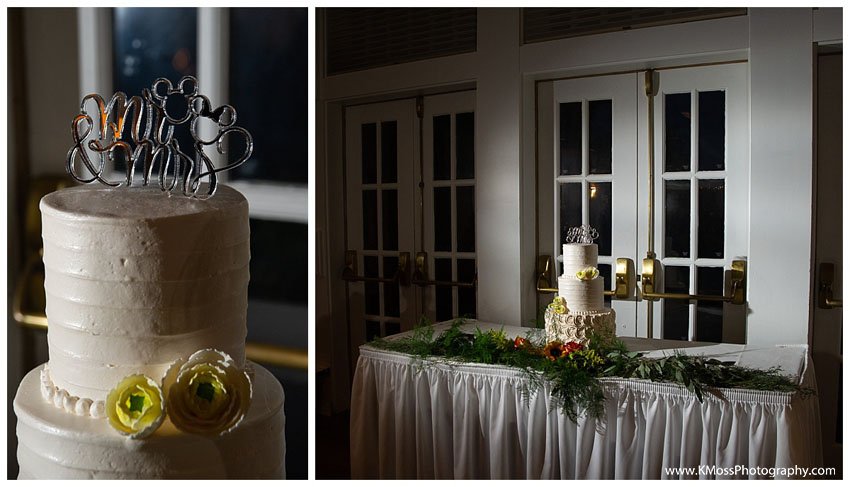 Shortly after cake cutting, we ventured out into the cold for just a few minutes for what I knew would be some of their favorite images of the day.
Becky and Jeff, thank you so much for inviting me to be a part of your first day as Mr. and Mrs. ?