The invitations had been mailed, the fancy outfits had been ordered, the rings selected, and countless hours had been spent planning the day that would take place at Pocono Manor, where they would finally become husband and wife.
Careful thought was placed in deciding the traditional "somethings". Alyssa's Something Old was her baptism hat, Something New was a pair of gorgeous pearl earrings given to her by her mom, Something Borrowed & Something Blue were the pearl necklace and garter her mom wore for her wedding (cue heart explosion!)
The bridal bouquet, skilly-fully created by Melanie's Florals, and filled with ranunculus, spray roses, and ruscus were the most beautifully blended colors and so perfect for the season.
One of the most anticipated moments of the day was the First Look, giving Dave and Alyssa a private moment together before the hustle of the wedding day really began. Dave couldn't stop smiling, knowing his gorgeous girl was about to tap his shoulder at any moment. When he turned and saw her, his eyes lit up, and it was clear that he was thinking that he had totally won the jackpot. (Of course Alyssa was just as excited, I'm just a mush bucket when I see guy so in love with a girl that you can see him melt every time he looks at her ? )
After a few minutes alone to whisper into each others ears and share their excitement for the day, we took advantage of The Poconos' fall backdrop with a few photos of an excited and ready-to-be-married couple.
Also excited to mingle during cocktail hour, they decided to schedule all photos prior to the ceremony. Photos were a huge priority for Alyssa, so she was definitely excited for the no-rush feeling this timeline gave her!
Bobbie Jo Bridal , lover of all things hair and makeup, totally rocked her skills in giving the bride and her bridesmaids a look to flatter their greatest features!
The October air was crisp, the leaves were gently falling, and the gorgeous colors surrounded us all as the moments drew closer to officially becoming Mr. and Mrs.

Alyssa and Dave have known each other since they were pre-schoolers, back when they each had "cooties". They never imagined that decades later they would be living the most epic love story and promising to spend the rest of their live together.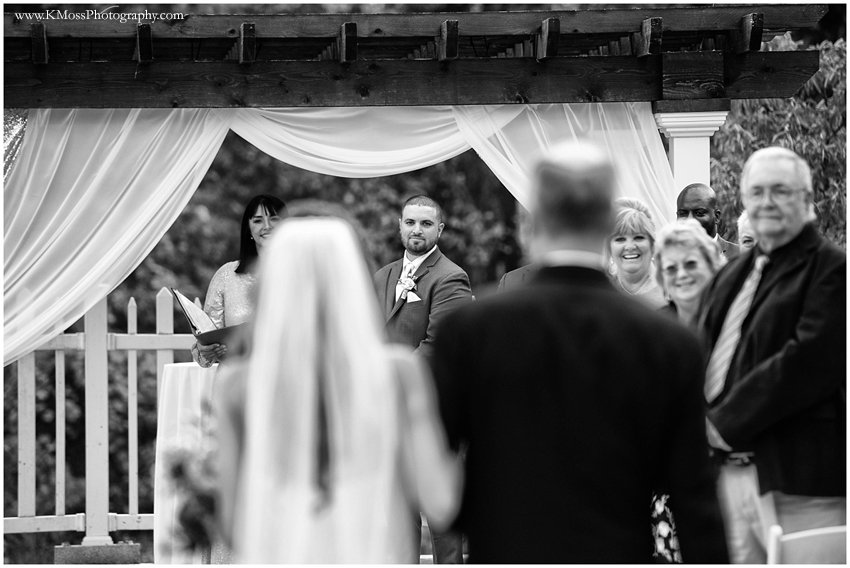 Their wedding day was all about First Looks, Alyssa and Dave, Alyssa and her grandparents, and Alyssa and her dad), so it only made sense to include the Reception First Look as well! A few minutes were set aside prior to the start of the reception to view the before; before guests covered chair backs with jackets and tablecloths were adorned with multiple purses. Couples spend so many months planning their room setup, but rarely get to see it completed, having this moment was such a great addition to their planning experience!
Artlocke Designs created pure magic with this cake topper! The characters look so much like Dave and Alyssa!
Alyssa and Dave, I'm so thrilled that our lives crossed paths and I was invited to celebrate such a beautiful day with you!