" I am sorry for the long email but you asked!!!"

When I excitedly welcomed Lyssy as a K. Moss bride, I asked her to tell me a bit about how she and Travis met and to share a bit about their love story. She didn't skip a beat, as she began to reminisce back to the days when they first met, sharing key points in their relationship, ending her story with "I am sorry for the long email but you asked!!!" I smiled knowing that she was so excited to share her love story and clearly couldn't wait until her status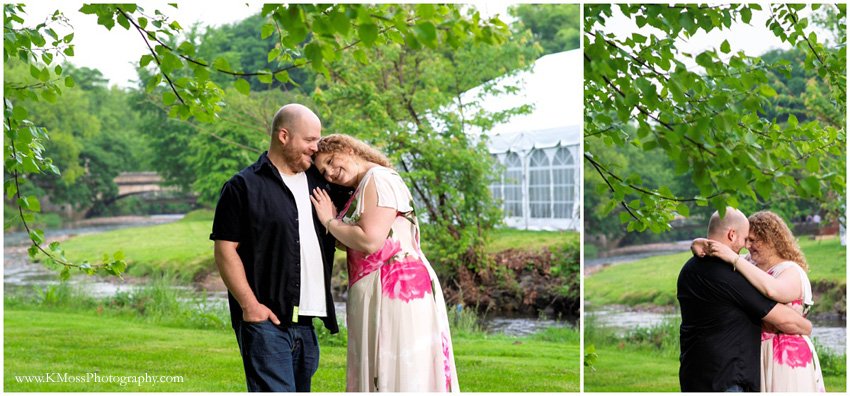 They have no shame in saying that they are huge fans of Pokemon Go and since that's the start of their story, it now holds an even more special place to them. On a crisp fall afternoon, Lyssy and Travis spent the first portion of the day playing their favorite game and later headed to see a movie. Travis knew there was something special about this girl, so he didn't waste any time in saying that he wanted to see where this could go.

Fast forwarding to last July, Travis thought back to his instinctive thoughts when they first started dating, knowing he had to have Lyssy in his life forever. While his original proposal idea didn't work out (don't worry guys, it actually happens quite often and girls aren't judging!), he wasn't going to let that stop him from asking Lyssy to be his forever. Lyssy doesn't know if she actually told him yes, as she was so filled with emotion and crying tons of happy tears.
Eager to schedule their engagement session and have a few "omg, we're getting married!" photos, they knew this moment wouldn't be complete without their little pup, Juliet.

I'll admit, I still get a bit nervous when couples bring their dogs along to their session (it's a fear I'm trying to get past). When I mentioned this, Lyssy replied: "she doesn't eat people, she marinates with kisses". She was totally right, not only was Juliet a bundle of love but she arrived to the session model-ready (and kinda stole the spotlight away from the soon-to-be newlyweds ? )
After taking a few casual photos, Lyssy hopped in my portable changing station and quickly slipped into the cutest spring dress. The colors popped so perfectly against the greenery of the Reading Museum!
The timing of their session was perfect! Not only was the lighting beautiful but we mainly had the entire park area to ourselves. That's the perfect opportunity for cuddles and laughing - no distractions!
We took advantage of the darkening sky by added a bit of fun color to the end of their session. The pink background really complimented Lyssy's floral dress!
The next few months are going to breeze on by and before they know it, these two will be ending their evening as husband and wife!