When I first met Megan and Bree for their engagement session last October, they were already excitedly counting down the months until their wedding day arrived. Somehow months quickly turned into weeks, leaving them nearly bursting with excitement. Finally, after nearly seven years together, the moment they were counting down towards was only hours away.
Already dressed in a spiffy suit when I arrived, it was all becoming real! Megan sent a surprise gift for Bree, a set of cufflinks and a tie clip, customized with the lyrics to Perfect by Ed Sheeran - their wedding song. The bridesmen helped get Bree's tie just right, clipping in the perfect spot, and fastened her sentimental cufflinks. Emotional weddings are my favorite and I knew that this day wasn't going to disappoint.
I spent a bit of time with Bree and the guys, then it was time to head over to hang out with the girls a bit.
Everyone had already been glamoured-up, thanks to Nathan Revilla and Shelby Weatherholtz​, so after a bit of small talk, I began getting all of the little details together. Upon taking just a glance at Megan's Justin Alexander dress, I was in awe. I've always dreamed of photographing a dress like hers, but hadn't yet had the opportunity. I was dancing inside, waiting for the time for her to slip into this gorgeous gown. 
I'm not a fan of the wedding hangers that usually come with dresses, so I typically switch them out for a set of my own. I loved that Megan was a step ahead of me, having already ordered a personalized Mrs. Bachman hanger!
There was a little surprise in store for Megan, too! This gorgeous necklace was carefully selected with the help of Megan's sister, to compliment the necklace of her wedding dress. I don't think Bree could have chosen a more beautiful piece of jewelry!
I tried to hold in my excitement as it was time to carefully take the dress off the hanger. A sheer back, donned with lace and a button up back - oh.my.gosh.
We originally had a pretty thought out plan for the First Look, which fell through a bit after a few unexpected things popped up. The soon-to-be newlyweds decided it didn't matter where they saw each other for the first time, they were just eager to share their private moment together. We made an impromptu stop in a vacant parking lot and within minutes, they were holding each other in a tight embrace.
With their hearts still set on an outdoor ceremony, it was decided that the ceremony would be delayed, in hopes of the storm passing. The rain began to slow and the sun peeked through the clouds, allowing for the ceremony to begin just fifteen minutes later than originally scheduled.
The Barn at Flying Hill's arbor and garden filled with dozens of flowers was a beautiful touch to the ceremony and really set the scene for romance. The ceremony was only about seven minutes in length, but there was still plenty of time for happy tears and and laughter!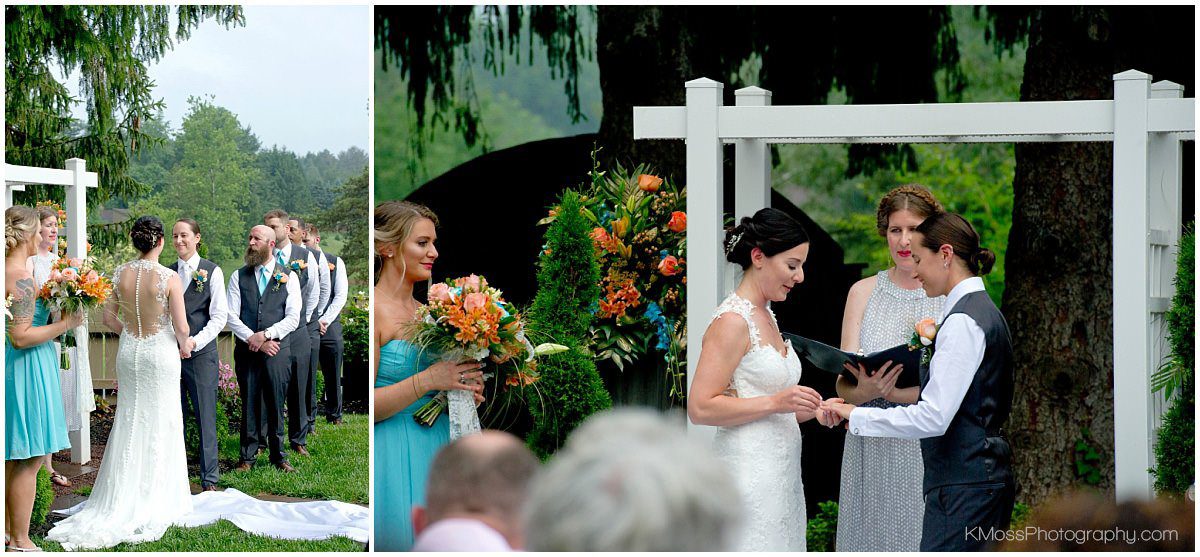 It was at this moment that family and friends began to throwing their arms up in the air and cheering, thrilled to share this milestone with Megan and Bree!
Once guests made their way to cocktail hour, it was time for a few formal photos. Instead of "posing" my couples, I instead give them directions. The emotions are so much more genuine! There were a wide array of emotions during these photos, making it nearly impossible to narrow down images for this blog post. I can't wait for them to see the full set of photos we created!
Michael of Majestic Florals designed this gorgeous bouquet of lilies, orchids, cali lilies, roses, and alstromeria. I loved how full the bouquet looked, adding even more elegance to the day.
The beach has a special place in their heart, so the newlyweds made sure to tie it into their reception decor. How adorable are the sea shells, star fish, and sand?!
Originally they had planned on a beach wedding, with a reception back here at home. After a bit of thinking, the brides decided that they preferred a venue close to home, to help ensure that all family members could attend. They then started getting ideas together to incorporate the beach to Reading, PA: bright blue and coral colors, mixed with sea shells and sand.
Instead of a traditional wedding cake, Iced Cake Artistry baked a variety of flavors of whoopie pies, including s'mores (Megan's favorite) and funfetti (Bree's favorite). It was definitely a hit with the guests!
Two weeks or so before the wedding, the newlyweds had begun working with a dance instructor for their choreographed first dance. Having only a small amount of time to practice, they totally nailed the moves, right down to the dip!
Between the toasts, personalized slideshow of their years together, Hallelujah sung by a friend, and father/daughter dance, there wasn't a dry eye in the room.
Once the super emotional part of the day had passed, it was time to get the dance floor packed and moving. Dj Steel Thunder kept the energy high, even occasionally shaking his groove thing on the dance floor, encouraging guests to keep the party going strong.
The girls described their wedding day as fun, elegant, and special, which couldn't have been more accurate! Megan and Bree are sure to smile each time they think back to the day they promised forever!
A huge thank you to all of the amazing vendors who helped make this day so memorable for Megan & Bree!
Venue | The Barn at Flying Hills
Officiant | Hilary Schulze​
Cake | Iced Cake Artistry
Caterer | Konopelski Catering
Flowers | Majestic Florals
DJ | SteelThunder
Hair & Makeup | Nathan Revilla​ & Shelby Weatherholtz​
Wedding Gown | Victorian Bridal Salon 
Dress Designer | Justin Alexander 
Suit| Express