I first photographed Christine and Ryan when they were guests at her aunt's wedding. Since that day nine years ago, we've met for couples sessions, engagement, multiple weddings (including their own), and extended family sessions. Although they've been in front of my camera countless times, I wasn't any less excited when I was asked to photograph their new little family of four.
When Christine and Ryan's first son was born, it was a spring full of total downpours, forcing us to reschedule their family session multiple times. Somehow we totally lucked out with their Wyomissing family session, with just the right amount of sun and comfortable summer temperature.
Just after these photos weren taken, this little guy decided to run up to me mid-session, plop down on my lap, and insisted I show him every photo taken. As I scrolled through, he pointed to each photo: "okay, good" "go back, okay good" "again, yes good"  To say that I melted into a pile of mush is a total understatement!
Every parent knows that whether they're making a quick run to the bathroom, talking on the phone, or having a snack, they're babies always want to be included. It was no different when mom and dad snuggled up to take a few photos together and their little guy thought it would be a great time to play juggle gym. At the time, I took these photos as something fun to look back on later, but they ended up being my favorites of the day! It truly portrays parenthood and the playful innocence of a child.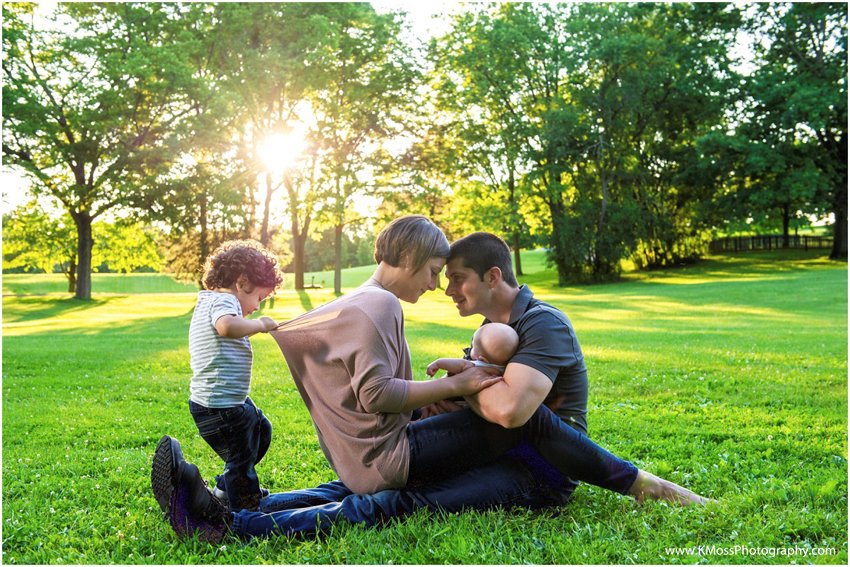 Although just 2.5 years old, he takes his duty as big brother seriously and is excited to introduce his little brother, "baby", as he puts it. The interaction between these brothers makes me so excited to see their bond grow and become the best of friends.
As mom and dad began to pack up their things and tuck baby brother into his stroller, my new best friend decided to hang behind, excited to play for just a bit longer. This sweet and innocent face has had me wrapped around his little finger since I first held him as a newborn. His little personality just makes everything in the world disappear, allowing you to forget any troubles or stress. I'm not sure who enjoyed playtime more, him or myself!
I'm filled with so much excitement as I think about the family's reaction to seeing all of their photos! I'd love to know what your favorites are, too!