Chelsea, an excited and very newly engaged bride-to-be reached out to me in early summer, so eager to schedule an engagement session and announce her happiness to the world. Thanks to the generosity of Grim's Orchard in Breinigsville, PA, Chelsea's dream of having her engagement photos in a sunflower field would come to life. (Take a peek here, if you missed it!)
I instantly fell in love with Chelsea and Sean and I admit, my heart was a little broken when they mentioned that their wedding would be taking place on an island somewhere. It's well-known that I've traveled the both coasts of the United States for weddings, but I'm strictly domestic, so I knew it wouldn't be possible to be a part of their day.
A few weeks later, they snuggled up on my studio couch, eating ice cream, and viewing the engagement photo slideshow. As soon as the slideshow finished, they mentioned that they had a big question to ask me. It was my turn to be proposed to! With bright faces, they asked if I would be a part of their wedding day, which would now be taking place in Pennsylvania! (side note, you heart CAN do cartwheels, if you didn't know!)
With only a few months to plan the wedding, I knew that I had to make this experience as simple as possible for the soon-to-be Mr. and Mrs.! I am super lucky to have a great team of vendors to recommend, which definitely helped ease the craziness of wedding planning!
One of my favorite things about K. Moss brides is that they not only love photos that have an emotional impact, but they also adore photos of the little details that help make their day theirs. Detail photos are absolutely one of my favorite parts of the day. It allows me to get warmed up and starting firing out my creativeness, in preparation for an awesome day ahead! Chelsea definitely didn't disappoint in delivering tons of details for me to photograph - she had a full box and kept gathering more!
Sean gifted his bride a set of pearls, which his mom had worn and looked absolutely stunning in (I had the honor of seeing a photo of her wearing them).. It meant the world to Chelsea to receive such a sentimental treasure and I know that Sean's mom wouldn't have imagined a more perfect girl to wear them.

As I focused on the little things, Chris headed outside to take a few photos of The Loft at Sweetwater, to ensure that the newlyweds wouldn't be able to forget a single moment or detail of their day. Although things were slightly thrown off track by an unexpected snowstorm, it didn't take away from the emotion of the ceremony (and it made for a pretty happy snow-loving groom!)

November skies can be pretty dull, but we totally lucked out with these gorgeous skies during their photos! It was pretty darn cold out, but the snow really did add such a beautiful touch to their first photos as husband and wife.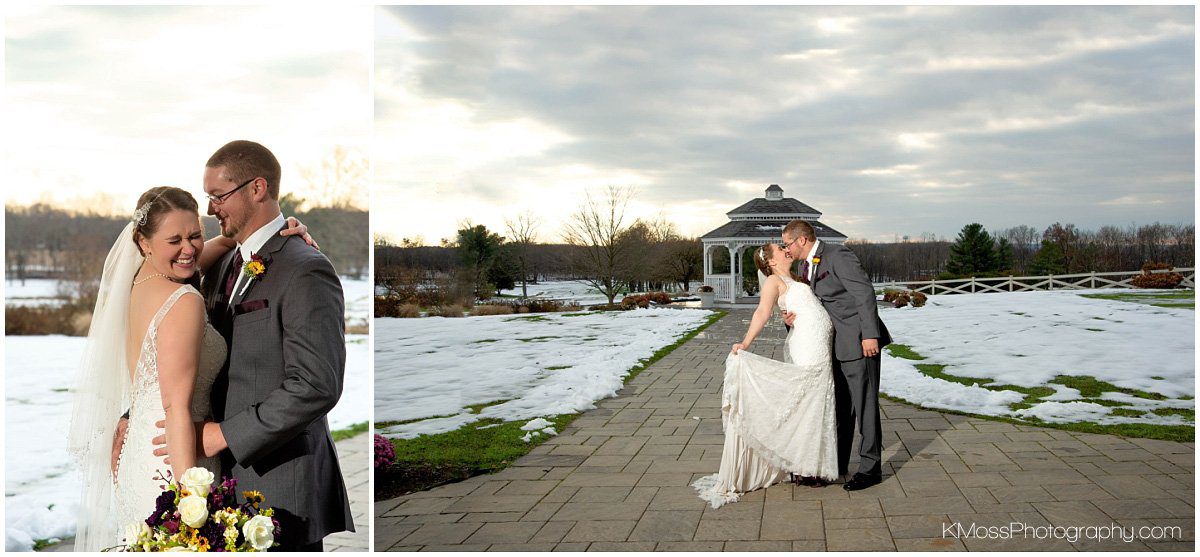 As the bridal party quickly warmed up, I took a moment to photograph the reception room centerpieces. Knowing how much Chelsea loved sunflowers, I certainly couldn't miss the sunflower accents throughout the room!
From their first dance, to toasts and parent dances, there wasn't one part of the reception that wasn't full of life and emotion!

It's rare to get a moment alone during the wedding day, but we managed to sneak away for just a few minutes to take a few nighttime photos. It was a little tricky when they stood near these windows, as guests starting flocking over to watch them, but I knew Chelsea and Sean would love the final result.
The rest of the evening went something like this, thanks to DJ Jimbo:
Chelsea and Sean thank you so, so much for inviting me to be a part of your day and trusting me with your  memories! I am so excited to see you grow as a couple and see where life takes you <3